"CITY OF ROTT: OTHERWORLD" (2018)

UPDATE: July 2017: COR:O is progressing, though it's still going to take a major effort to complete everything. The good news is, I am having fun again working on it after refining the script and dialog not too long ago, while also enjoying the animation process. The lip syncing is tedious at times, but with Anime Studio Pro 8, it's really easy to do compared to prior films. The film is roughly near the 40-45% mark in completion, but has made some big progress recently after I earned back my motivation. Thanks for your patience, as it's a ton of work and I want to enjoy the process but also realize this takes a huge chunk of time in life, so I can't forget about other daily stuff too. Guessing late 2018 and will try to get it on blu ray, dvd and digital.
UPDATE: January 21, 2017:
It's been a long time since I updated here, but there is good news. The game, City of Rott: Streets of Rott has been greenlit for Steam. Steam is one of the largest retailers of digital games on Earth, accounting for over 70% of digital game sales online from what I've read, so that's a nice way to have a little more exposure for the City of Rott world and game, if it goes according to plan. The game is planned for February 2017 on steampowered.com and more details will follow.
With that announcement, the movie will finally resume full production, as it had to be delayed to complete the game and get it ready for Steam. With the delay however, I anticipate that the movie may be completed by the end of 2017, early 2018 if things go to plan. I would like to have distribution for the title, so I'll see how all of that works out as well. Thanks for being a fan and more news later.
UPDATE: September 10, 2015:
Goal:
To create a fun & original, Animated Feature Length Zombie Movie starring an old man and his walker, set in another Realm with plenty of Action, Horror and some Humor, telling the story of the old man's quest for enlightenment and freedom as he battles the Zombie Hordes. To be intended for older audiences due to cartoon violence, blood and gore and some language. Runtime estimate may be about 70 to 80 minutes total.
The preview Trailer shown is only a hint of what is to be created, and it gives a strong idea of what to expect with the style of animation, detail of the illustrations, music and sound effects in the film to be made.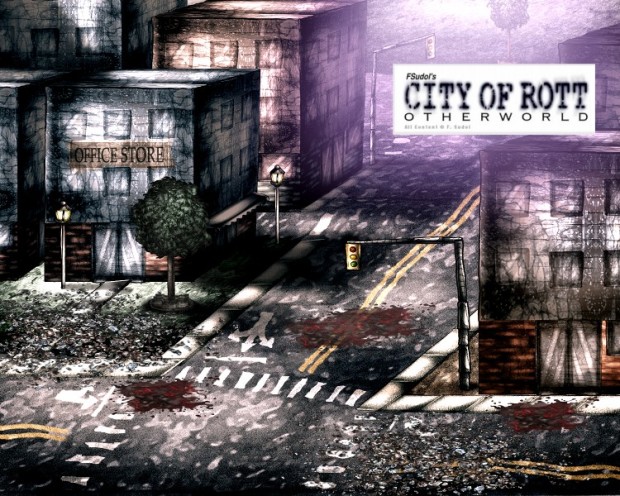 Picture: One of many Backgrounds to be used in this Animated Zombie Horror.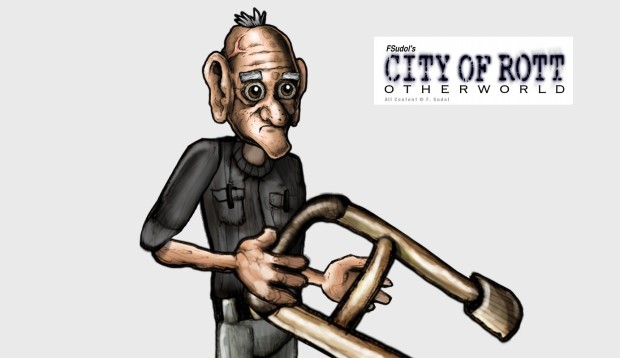 Picture: Fred, an old man and his trusty walker. Watch out Zombies.
Movie's Plot Summary:
An old man named Fred, recovering from the loss of his mind and his former life, along with his talking Walker, reluctantly enter the Otherworld's City of Rott, a mirror realm filled with infectious Living Dead among an even more sinister evil, the Stalker. At all costs, Fred must avoid this powerful entity that infects the Otherworld, turning its victims into mindless Zombies.
With the guidance of Renzer, a mysterious inhabitant with amazing power, and the goal to save the life of a beautiful Nurse infected by the Rott plague, Fred desperately seeks to unravel the mysteries of the Otherworld, on his epic journey to escape the bone chilling City of Rott.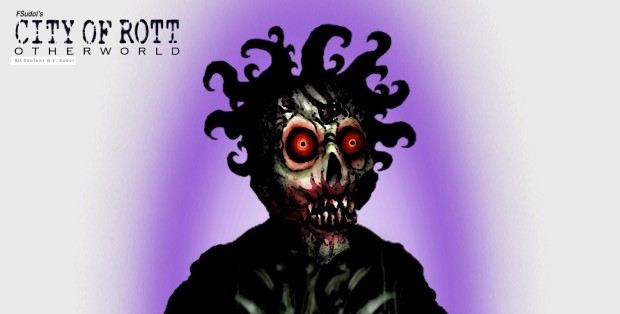 Picture: The main Villain named the Stalker. Get caught and you become a Zombie.
About Frank Sudol, the Artist behind City of Rott: Otherworld:
Having earned professional experience working on the SOUTH PARK Movie: Bigger, Longer and Uncut in 1998 through 1999 and credited as an Assistant Technical Director and Additional Animator, as well as other productions that include the completion of feature length movies such as City of Rott (originally featured on Netflix, Blockbuster Video, Movie Gallery and Hollywood Video), City of Rott 2, Dead Fury, Shock Invasion, Gnome in the Haunted Castle and more, F. Sudol is ready to tackle the challenge of creating a new, feature length animated zombie movie.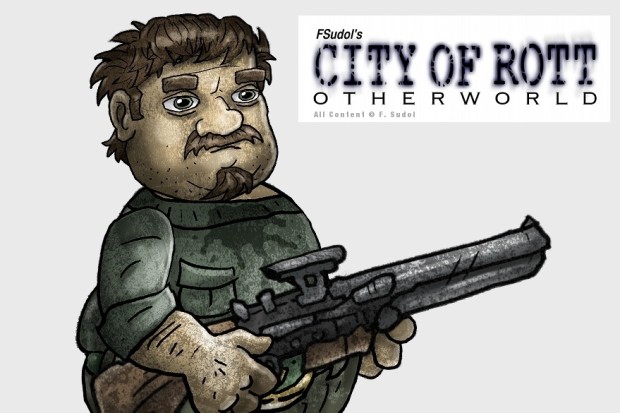 Picture: Renzer, an inhabitant of the Otherworld, has unique powers and knowledge.
Written and to be directed by Frank J. Sudol (of BlackArro Productions Animation Studio), City of Rott: Otherworld is a one man production from start to finish, from script to final presentation including all animation, voice acting, musical score, lip synching, character design and illustrations, technical directing, sound effects, editing, special effects and more.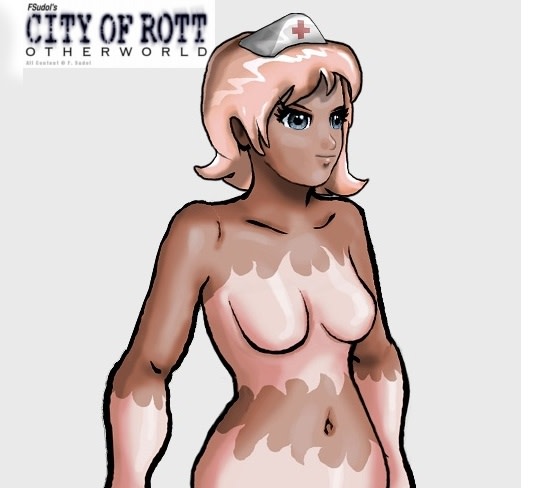 Picture: Sarah the Nurse is a fighter, until she becomes infected. Time is short.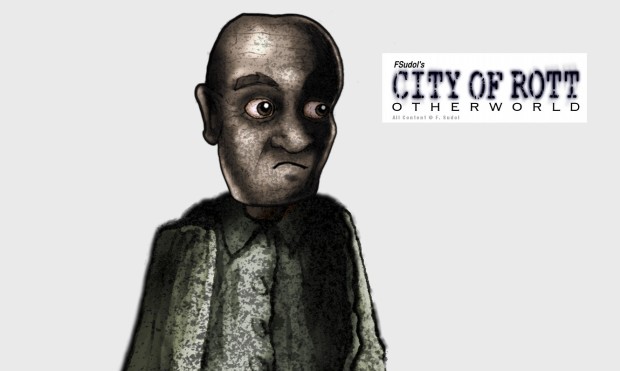 Picture: A survivor  in the Otherworld, cautiously trying to avoid the Stalker.
Challenges:
Finding more time is a challenge due to the cost of daily living.
One Man Production? It's a huge challenge, but one that can be accomplished with enough time, resources and health, guaranteed.
Finding a larger Fan Base. Do horror and animation fans want an animated zombie movie in this style, starring an old man against a city of zombies? Your support matters! If you know zombie fans and animation fans that might be interested, let them know if you can. Thanks! It will help ensure future movies are created.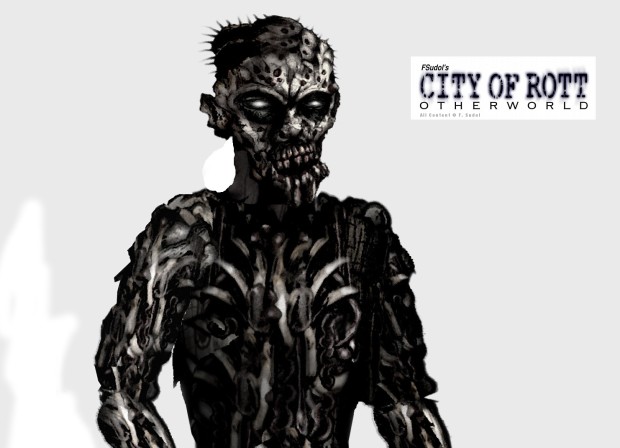 Picture: A Rotter Zombie who has been decaying for a very, very long time…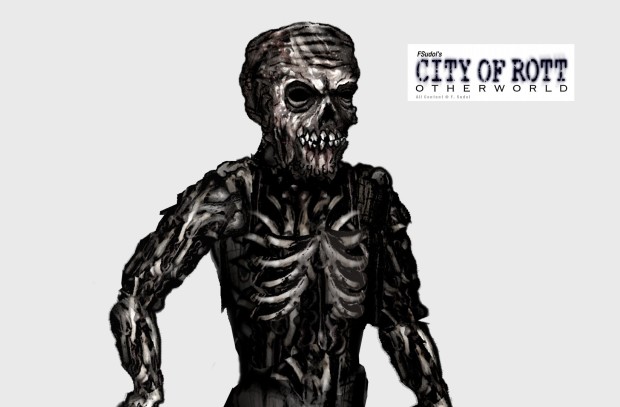 Picture: Skull Faced Zombie. One of many that infest the City of Rott.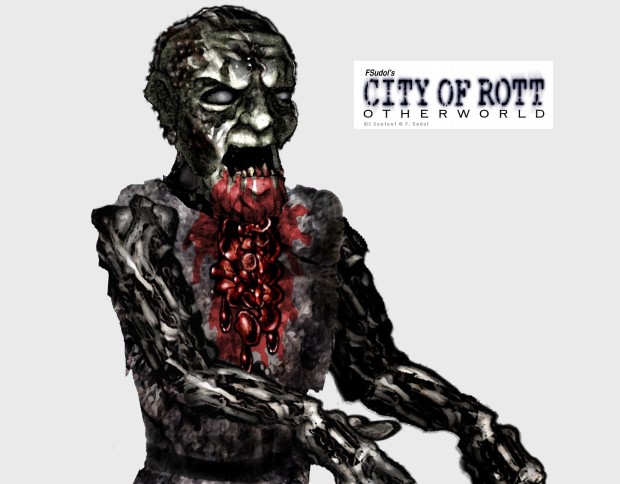 Picture: This Moss Face Zombie is slobbering his meal and could use a bib.
Subscribe to the F. Sudol BlackArro Youtube Channel at:
http://www.youtube.com/user/redbolt93
UPDATE: August 30, 2015: It's here! View the Official City of Rott: Otherworld – Teaser Trailer 2015 by F. Sudol of BlackArro Productions. City of Rott: Otherworld is in early production. If you want more, subscribe now. Thanks! -F. Sudol
UPDATE March 15, 2015: No release date in sight for City of Rott: Otherworld just yet, but things are slowly moving forward, with most of the main characters constructed and the script complete. These projects take huge amounts of self motivation and effort, so I want to make sure it's the best I can make it as a one man production, as have all of my prior projects been. To learn the software thoroughly, a new animated horror series of shorts entitled, Tales of the Dim has been created, and has so far been great practice that can be applied to COR: Otherworld in time.
UPDATE December 28, 2014: Early pre-production has begun as the script continues to evolve for a more compelling and focused story where the following is being included: character motivation is critical, pushing the story forward and avoiding unnecessary distractions that lead nowhere, having a strong villain to give purpose to the hero, tough choices forced onto the hero, putting the hero through hell, dialog that gets right to the point with as few words as needed, keep the pace going and increase it by the end of the film, a theme to the story, and to entertain the target audience. While these key points (and more) may seem obvious to established script writers, many years ago in 2005, when I started writing City of Rott 1, I didn't have much experience as a script writer, and it clearly shows in City of Rott, with many omissions of the key points above. I'll once again make the best film that I can, but with more skill where it matters most; storytelling.
SOFTWARE: While CITY OF ROTT was animated using Photoshop 5.5's very limited Image Ready software (rotation of bitmap images was not possible during animation, so each rotated angle had to be a separate layer, resulting is stiff animation due to limited layer capacity before major slowdown), a much more user friendly program (from what I've learned so far) is being used, called Anime Studio 8 Pro (bought in late 2014). Everything so far is very intuitive and user friendly, with a ton of useful features and options I could only dream about in Image Ready. Half the battle of making a film is enjoying the tools you're using to create it.
POSSIBLE FUNDING: While prior films were funded by myself alone, I'm interested in seeing if a decent response can be found if City of Rott: Otherworld is given a go on Kickstarter or something along those lines in 2015. It's still early and things are still being planned out, but it would be an immense help to the film's completion.